A time to unwind and look forward to 2022!
The build up to Christmas was different for us all this year, although hopefully an improvement on the previous one; with many managing to spend some quality time together. For those unfortunate enough to have COVID visit the household, we hope you managed to have some rest and get through it with minor symptoms.
Everyone on the team has expressed their thanks for the very kind and generous Christmas gifts. They certainly made everyone smile and helped the team to remember how important their role is to each and every family. I think we will all admit to over indulging a little with the wonderful chocolates, treats, pampering goods and bottles of bubbles! A few New Years resolutions have already been shared and I think we are all now looking forward to safer times, where we can exercise more and get out into the fresh air to improve mental well-being.
The Lead Practitioners had put together their contributions for the blog on the last week, but as we were all in much need of a break, I left sharing until we returned and hope you enjoy reading about the specific rooms. You will see that the children had a very exciting December which included a range of Christmas activities to help get the little ones in the mood and the ladies certainly went the extra mile to make it special!
Rainbow Room Lead Practitioner: Those of you with children in Rainbow Room will have been informed of Stacy's departure. Stacy has always had the children at the very heart of her interactions and she will be greatly missed. We all wish her luck for the future and her career development!
Katherine is taking on the Lead Role for a trial period. She is a very experienced and passionate Level 3 practitioner and she expressed interest in the role for her own career progression. She has been with us for a few months already, working in both Starlight and Rainbow room so she has made good relationships with the children and the team. She is looking forward to finally getting to meet 'the grown ups' at handovers. If you haven't yet met her, take a look on the 'Meet the team' section of the website where you will see her photograph and a little bit of information about her. I know you will join me in wishing her the best of luck in this new lead role.
We have previously shared with you the current recruitment issues facing the Early Years sector. These are wide spread across the country and qualified staff are very hard to find due to many leaving the sector completely. We still have three staff on maternity leave and so continue to recruit to help the team avoid extra pressures of juggling roles. We are extremely fortunate to have a highly qualified staffing structure including Management and Leadership who are supernumerary meaning we can step in and cover where needed. While we are covering in rooms, you may of course find that replies to emails or calls are not as quick as usual, so please allow us a little time to juggle office responsibilities and the priority that is the interaction, care and safety for the children on a daily basis.
Menu's: The new menus are now embedded and we have had a chance to evaluate and share thoughts regarding any issues with availability of ingredients etc. Katarina and I are hoping to meet with Cook Nicky in the next fortnight (staff sickness allowing) and may possibly amend or switch around a few of the puddings to accommodate supply and practicalities. As soon as we have the opportunity to do this, we will of course email the finalised versions to all families.
Staff Training: We all thoroughly enjoyed the second session with Ellie Collar. It included more fascinating information regarding the importance of core strength, physical play and the connections made in the young, developing brain. Session 2 focussed on 'Executive function' – supporting children through early years interactions, high quality environment and play to develop the memory, impulse control, physical and emotional regulation, self-organisation and social skill development to have quality involvement and learning through play, and strong relationships.
Ellie is inspirational and her vast experience is evident in her training packages and support. I highly recommend looking at her website as it is so informative for families of young children, not just those diagnosed with Special Educational Needs (SEN). www.earlyyearssen.com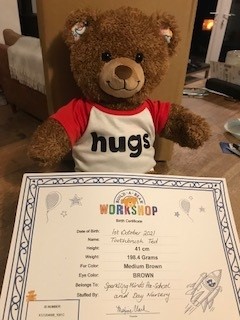 'Toothbrush Ted' is available for bookings when you have a dental appointment for your child. If you would like to take him for a photo while sitting in the dental chair, pop us an email with the date required and we will add you to his appointment diary. He wears a t-shirt that says 'hugs' to help reassure anyone feeling a little anxious on their first visit. He has already accompanied a few of our little ones. The photos of 'sparkly smiles' are delightful!
Supporting Charities
Children in Need 2021 we managed to raise a fantastic £65.00 for this amazing charity. The 'Percy Pig' Raffle certainly helped with the children's enthusiasm for tickets, so thank you so much for taking part.
We would like to sponsor a puppy for the blind, so once things settle for the new year, we will look into this and share the puppy updates.
News from the rooms
Sunbeam Room News:
This month has been full of fun in the running up to Christmas, we've enjoyed many Christmas stories, Christmas puppets and lots of dancing around all the different activities as well. We made our room look incredibly Christmassy with a little tree which we could see but not touch (because we all know too well what might happen to our decorations if all our little hands got to it).
At the start of the month we liked playing with ice skaters in the garden. Maddy collected a selection of our small world people and put them into water to freeze them. Once they were ready to go, we carried them into the garden to skate around the tray. We were also curious to see how they would 'skate' on other toys and explored on lots of different surfaces, testing them out wherever we wanted them to go!
A few of us made snowflake decorations with Amy and some of us made paper chains with Annette. We experimented with the addition of colours and texture by using paint, glitter and stickers. We hung the decorations in our room and enjoyed them throughout the rest of the month. We made baubles with glitter and sparkles before hanging them around the room to show all of our friends and teachers. We spent a lot of time exploring new ways of doing activities and attempting to use new, alternative techniques. An exciting activity came from using pinecone to make mini Christmas trees. We rolled the pinecones into glue and then into glitter, but some of us used paint as an alternative.
At group times we particularly liked playing with the parachute. Teachers added different Christmas themed puppets to it and then we all held an edge each before lifting it into the air with a 'wooooo' and a 'yay'!
We spent many days taking part in messy activities and evaluating our ideas. We asked Nicky to cook us our christmas shaped pasta and then emptied the pot into the big tray before adding a variety of kitchen utensils including pots and pans to delve into the pasta. We loved exploring through touching, squeezing while filling the containers and then emptying them out again. We did this over and over again with great enthusiasm. We instinctively used our sense of smell and some tried to even give it a taste! Teachers supervised and talked about how we sometimes have pasta to eat (interesting how some foods look and feel different after being cooked). We looked at the different shapes and lots of us guessed the shapes as being Christmas trees, stars and presents before picking them out to show our teachers how clever we were!
Playdough was another favourite this month. We used the Christmas stampers to make our own shapes and we persevered because we encountered a few issues but after a while (with some help from our teachers) we managed to roll the play dough out and press the stamp on and make a lovely shape.
Shaving foam is always a firm favourite in our baby room and all the children love getting involved even if they choose not to get too messy! To make it a little more exciting, we added glitter to the foam and small world people to represent what snow and bright pretty colours might look like. We spoke about how the small world people looked like us and the foam looked like the snow we had seen in November. Unfortunately, the white shaving foam turned a funny colour after we all mixed it up together!
Maddy, Ciara and Amy spent a few hours throughout the month refurbishing the playhouse into a little Santa's grotto, which has lights, baubles, stickers on the windows, fake snow on the roof and a sign saying 'SANTA STOP HERE!'
On the last few days running up to Christmas we made Christmas hats. Lisa and Amy helped us to decorate them and some of us took them home to show our families. Nicky made us a lovely Christmas dinner (and our teachers had one too!) We finished off our Christmas bags and thoroughly enjoyed our last few days at nursery before heading home for a restful but exciting Christmas.
All in the Sunbeam hope you had a very Merry Christmas and hope that 2022 is Happy and Healthy New Year! We look forward to starting 2022 as the start of another amazing year in Sparkling Minds Sunbeam Room.
Maddy
Rainbow Room News: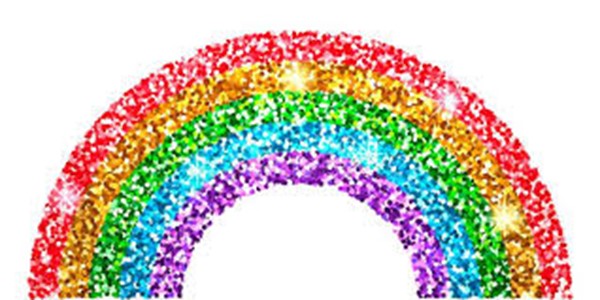 This month has been very exciting, getting prepared for Christmas we have made our own Christmas cards alongside other projects to go inside our Christmas bags. We hope you enjoyed receiving them as much as we enjoyed making them. The children have practiced many skills through these activities; mark making, fine motor control, colours (and how they change when they are mixed), sign language and lots of opportunities for communication and language through having conversations about home, celebrations, feelings and experiences.
We have also been busy practicing our Christmas performance 'We're Going on a Star Hunt'. After watching the recording, we hope you agree the children were amazing. They listened beautifully, followed instructions, practiced the songs with gusto and learned some new sign language to accompany their Christmas song!
We have enjoyed winter themed tuff trays, assembling the train track, covering it with snow (flour) and making it sparkle! We put shaving foam in the water tray for a slippery, snowy slide with the small characters. This provided an opportunity for some lovely conversations extending ideas and vocabulary.
The children were super excited to have a 'snow day' where they made snowballs while exploring the textures and sounds of the snow and ice.
We have enjoyed many stories this month and these have been embedded with the use of props and peg dolls. We have listened to stories of helpful reindeers, Santa losing his beard and ten little penguins who all got up to mischief!
We all enjoyed our Christmas dinner, followed by a treat of very cold ice-cream!
We also had a surprise visit from Father Christmas who told us his reindeer and sleigh were parked on the roof while he popped in to see us and give us a special gift. He believed us all when we said we had all been good and was very impressed by our wonderful manners! Father Christmas left behind a gift for each of our friends before waving goodbye and using his magic dust to fly off through the sky. We were very excited and full of 'awe and wonder' for what was to come once nursery closed for the Christmas break.
Stacy
Starlight Room News: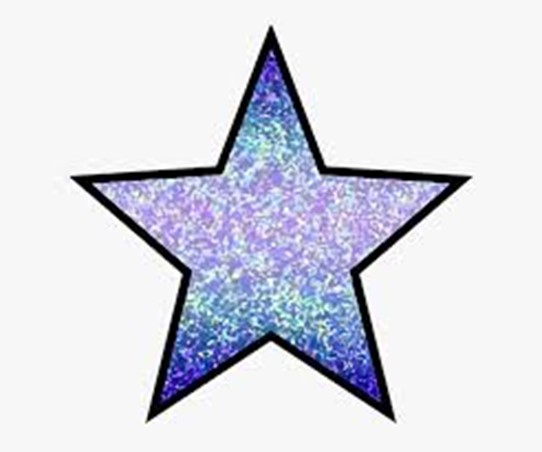 Welcome to our new children and families who have joined us in Starlight Room. Children regularly move up from Rainbow Room and others move into the area and want to be part of our 'Sparkly Family'. The paragraph below is repeated in each blog entry for this reason, to share guidance with new families to support their new pre-schoolers with early phonics. While 'Phase 1' is our main focus (listening to, recognising and differentiating between sounds in the environment), Jolly Phonics helps to ensure bad habits are not developed when children show an interest in letters and the sounds they can make. Skip to the focus sounds if you are a long standing parent but do ask to speak to Jen if you would like any individual advice for early phonics. She will of course again organise 'School Readiness' meetings for families which will be held in 'The Pod' during the summer in preparation for transition to school. The families with 'leavers' will be contacted nearer the time to book via email.
Phonics – We have moved our way through the set sounds following on from Ss,Aa,Tt,Pp,Ii and Nn. We have been using our 'sound of the week' activities and games to link more sounds to their corresponding letters. Ask the children to demonstrate these sounds at home and take a look at Jolly Phonics online if you need some support. As previously shared, YouTube has each of the accompanying songs should you wish to take a look. Learning the Letter Sounds in Jolly Phonics is a really useful resources for families. Remember to use 'pure sounds' (keeping your mouth movements small to avoid adding extra sounds becoming bad habits. This will help when children begin blending sounds to read words and support them with future segmenting of sounds to spell simple words). When reading a bedtime story, why not begin with a game of spotting a particular letter from the selection we have introduced? Quick recognition will really help with confidence and familiarity. Remember to only spend a few minutes before settling down for a cuddle and wonderful bedtime story to end the busy day.
Focus Sounds: Due to broken attendance with sickness and family breaks, we felt we should consolidate the previous set of letters and sounds. These are the ones we looked at during December and in January we will move on to the next set.
Cc/Kk/ck is for castanets (dancing to Spanish music as you click them together for the rhythm).
Ee is for egg (cracking them on the edge of a mixing bowl using two hands to pull the eggshell apart),
Hh is for huff and puff (after running a race).
Rr is for rag (that a puppy is pulling and tearing with its teeth)
Mm is the sound we make with our lips tight together (rubbing our tummies to show food on a plate tastes good).
Dd is for drum – beating the drum (using drum sticks with two hands).
In free activities we have been able to use the magnetic letters to look for familiar/important letters. Looking for those in our name, parents and siblings names or those that we have looked at in our group games and focus times.
Maths skills have been encouraged with 'in the moment' counting (counting for purpose during the day) and sorting. Some children have sorted through colour, shape and size, our older children have also attempted making repeating two colour patterns!
Following on from our initial Ellie Collar training, Jen purchased some new tts outdoor toys to help develop our core muscles. Two sit in wobble shells, stilts, a floor surfer and a giant spinning top are all now in use in the garden area. Take a look online at these fantastic resources www.tts-group.co.uk to have an idea of how we are strengthening our important core muscles and developing balance through play. Following on from the same training, we are regularly incorporating some simple exercises to our daily routine; crossing central line activities. Occupational therapist often stress the importance of this to ensure both sides of the brain communicate and work together. The ability to cross the central (sometimes called the midline) is vital to the development of using both sides of the body together, such as putting on shoes and socks, writing and cutting. It promotes co-ordination and communication of the left and right hemispheres of the brain. These movements help create pathways in the brain. Poor central line skills can cause children to have scattered attention. The bodies central line is an imaginary line down the centre of the body that divides the body into left and right. Crossing this imaginary line is the ability to reach across the middle of your body with arms and legs (e.g. standing while touching your right foot with your left hand and then switching to use your right hand to touch your left foot). We often try using our left elbow to touch our right knee and vice versa. Try it with your children and see who wobbles! An interesting link has been shared on our Facebook Page.
Throughout the month we have been using a range of art and craft materials (having choice for exploration with different media). Our festive gift making encouraged our creativity, independence and co-operation. We added to our role play with lots of Christmassy dressing up which prepared us for our Wriggly Nativity rehearsals!
We shared a variety of festive stories and one particular penguin character led to us look closely at the globe with Jen. This helped us make the link between where we live in UK to the wider world. It also encouraged us to talk about the places we have travelled with our families (and where some of our extended family live). Jen asked us how we had travelled (cars on land, boats across the sea or aeroplanes through the sky). This also made us look closely at the different parts of the globe, differentiating between which parts of the world are covered by sea and land. Jen then gave us a new addition to the room – A cuddly penguin called 'Woburn'. We are now a little more curious about animals and where they originate from knowing we can see some endangered animals in zoos and safari parks.
Back on track to the Christmas focus and Nicky cooked us a special Christmas lunch and the team arranged party games which kept everyone entertained until we had a surprise visit from Father Christmas! He parked his sleigh on the roof and brought everyone a special gift. We were all extremely excited but were on our best behaviour, with impeccable manners and huge smiles on our faces. The magic really did fill the room!
Alice
Super Star Staff
This month Management and Leadership came to a unanimous decision for the Super Star Staff member. Amy is an absolute joy to be around at all times and Christmas certainly brought her infectious enthusiasm to another level. She went Christmas shopping (and not for Christmas outfits like most young ladies her age – although I'm sure she made up for that with online shopping the week later). She came into Sunbeam Room with a beaming smile and wanted to ensure the outdoor playhouse was like a Christmas Grotto.
The excitement continued in the build up to Christmas (despite the worry of COVID). Amy continued to spread happiness wherever she went. Her angel like singing helped us all get in the festive mood (despite us all realising that we do not have the same level of vocal skills).
Amy looks out for everyone. She always has a kind word to say and is particularly aware when someone needs a reminder to give themselves a 'pat on the back'. Thank you for being part of our team Amy. Don't ever change!
Reviews
Please save the link to the website and check in regularly to this 'Now & Next' blog. You can also view the 'Meet the team' which is particularly helpful when your child is transitioning to the next age phase room.
A new review section has been added to our website with a direct link to www.daynurseries.co.uk parent reviews. Take a look, leave your own review and if you love our provision, please 'spread the word'.